12 Best Facebook Apps For Android and iOS
Logging into your Facebook web can sometimes be tasking and even the interface can sometimes be tiring and this has led to the advent of Facebook apps on both Android and iOS devices.  The Facebook apps have been considered to be helpful in performing quick task so developers have taken their time to provide a lighter and more simple alternatives facebook apps.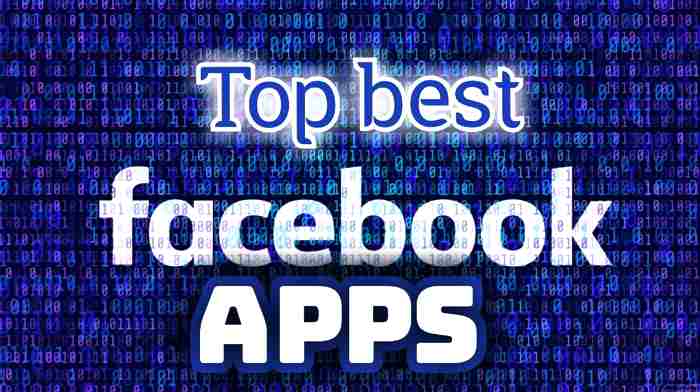 So if you are looking for the best Facebook app or alternative Facebook app for android and iOS then you are at the right place.
So today, we will be giving you top best 12 Facebook apps you can use in place of the popular Facebook app or the web version, you will also discover that the apps have all the app have all you want, so read through the reviews to make your choice.
Although some app may not be available for both devices you will still make a great choice with the list, so let's dig in.
Read also;
Top best daing apps
Top best Coding apps for computers
Top apps to hack android games
Top best site to download Korean movies
Top best site to earn money through gaming
Best Facebook app for android and iOS
1. Maki
Maki is a lite app and a good alternative when it comes to Facebook apps. It can perform all facebook functions such as viewing Facebook posts, photos, checking timelines as well as the messenger features. You can send messages to friends with a single tap. Maki also has other in-built sites such as Reddit, Medium and Instagram.
You can also run multiple accounts using Maki, you can make both audio and video calls flawlessly and the app is free from all form of ads.
Download Maki for Android
2. Facebook lite
This is the most used Facebook alternative app  till date.
It has more users and it runs flawlessly on all device types. It saves more browsing data and it has a nice interface. You get immediate notifications of happenings on Facebook and you get first-hand information right on the app.
If you are the type that follows pages or groups, all the content are delivered right to you first hand. You can also chat with friends easily, upload videos and download at your own convenience.
Download Facebook lite for Android and iOS
Read also: How to make money with Instagram
3. Messenger
Many would be familiar with the Messenger app as it is an ideal app for Text and video chat, it is also light and consumes less space on your device. You can start a chat with a single tap and it gives rooms for syncing with your contact.
Messenger app also helps with the sharing of videos and text on your status as well as flawless management of your Facebook account.
Just recently, a new feature has been added to the app which you can't afford to miss, here you can create rooms which can accommodate up to 50 members where you can do a group chat just like WhatsApp group, you can also share media files as well.
Download Messenger for Android and iOS
4. Video Downloader for Facebook
If you don't know Facebook has it own video library then I guess your age is over 75. Facebook allows people to share videos and its really fun to watch people share their mind and expression through video and Video downloader for Facebook helps with that.
You can copy & paste the video link to download in no time. You also have access to watch the video right in the app as well via the in-built browser of the app. The app is easy to use as it has a nice user interface and you can share videos easily using this app. Your privacy is safe with this app.
Download Video Downloader for Facebook for Android
5. Save story for Facebook stories
Get Facebook stories posted by your friend a first hand with this app just like the popular status on WhatsApp.
The app is lighter and it saves browsing data battery and storage space as well.
The app is free from all annoying ads as you can customize the setting as per your preference. With Save story for Facebook stories, you have the full power of customization so to get the most out of this app, get to the settings.
Download Save story for Facebook stories for Android
6. Swipe for Facebook
Swipe is yet another great best alternative facebook application available for your smartphone, its features range from chatting to watching and downloading of media files such as photos, audio and video files. It is also light weighted and uses less storage on your device.
Above all, you have an in-built security system which uses the pattern, biometrics or pin lock depending on your choice. The app is also free from ads so why don't you make use of this app today.
Download Swipe for Facebook for Android
7. Friendly for Facebook
Just like other apps in this article, you get to send messages to friends and chatting is made easy with this app. This app allows you to customize and also filter the type of content you would like to view. You can download videos and other media with just a single tap. You can run multiple accounts using this app and you can stop all notificatuom if you are the type that gets annoyed with notification. You can also manage a small data subscription with this app and stay connected with your loved ones around the globe.
The app also have the pro version where more features are unlocked.
Download Friendly for Facebook for Android and iOS
8. Messenger lite
This is a light version of the Messenger app, the file size is so small that 10MB space is enough for its installation yet you have all the Facebook features at your finger tip. Chatting with friends is made easy and you also have access to unlimited calls to friends. This app runs faster on all app irrespectibe of the device RAM and it also loads images, icons and video faster.
Download Messenger lite for Android and iOS
9. Folio for Facebook & messenger
Folio is one of the best Facebook apps when it comes to the user interface, the user interface allows for easy navigation and quick messaging as well.
Yet the app is known for its lightweight and speed as well. You tend to enjoy both the facebook and the messenger aspect with this application. You also have full access to customize the settings to suit your taste.
Download Folio for Facebook & Messenger for Android
10. FB pages manager
Do you have a Facebook page? If yes, this is the success key to your page. With a tap on this app, you can upload content and media files easily without logging into your Facebook app. The app also gives you suggestions to help you manage your page as the page manager giving you insight on how to get more reach and how to promote your business. You also get notified of all activities which you can respond to immediately via this Fb pages manager.
Download FB pages manager for Android and iOS
11. Faster for Facebook Lite
Here the app is a look-alike app just like the Facebook Lite, you get all the Facebook feature out of Faster and you can also switch to the classic Facebook view if you want.
You can chat, download and share media files on this app with a single tap. You will have a long-lasting battery as the app uses little power. You can also run multiple account on the go.
Download Faster for Facebook Lite Android
12. Simple social
This app is known for its in-built security using a 4 digit pin lock which keeps intruder outside your privacy, it is a top social network manager app for your device. The app lets you manage your social network account and not just Facebook alone. You get to chat faster, download and share files on the go.
Download Simple social for Android
Using Facebook is not as hard as using Facebook on a secured platform and all the Facebook app alternatives listed in this article offer you security. The applications keep you away from the bad eyes on both your Android or iPhone or iPad.
So take your pick and get started today, connect to your loved ones and never miss an update.
If you have any questions or feedback, make use of the comment box below.
Remember to share this list with your loved ones using the share buttons below