Player doesn't support this video format Vidmate (solved)
Just recently, we started seeing "Player doesn't support this video format" error when we download videos via Vidmate. This error usually pops up when you try to play a downloaded video you got from Vidmate.
We are going to fix this error in this article so, you just read along.
Vidmate has saved people a lot of stress by downloading video in Youtube, Games and apps and other videos.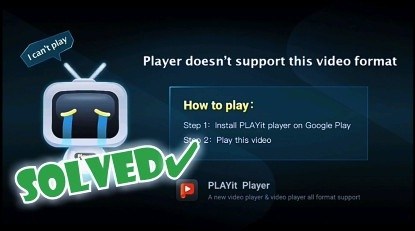 In most cases, the error will come with a recommendation that you should download PLAYit video player in order to play the video. However, most of us already have Video players we prefer on our device such as MX player, VLC, KM player and other media players across various device such as Android, iPhone, iPad, Windows PC, MacBook and other devices.
So if you are a fan of MX player or VLC and you just downloaded a video from Vidmate and you are getting this error "Player doesn't support this video format" then this article is for you especially if are looking for a permanent fix and if you want to also play the video across other players.
Why am I seeing the error "Player doesn't support this video format"?
This is a question people asks every day about Vidmate problems but fixing it is not as hard it may seems.
We also received similar questions such as:
why downloaded videos by vidmate can only be played using PLAYit?
How do I play vidmate videos in MX player?
Why is vidmate video not playing on pc?
How do I fix Vidmate video not playing in other Video player?
We have also received a lot of similar questions like that so we felt it would be great if we could share an article that would address this issue and here we are.
Now to answer the question, (although this is just a guess and this is not a confirmed statement).
We think Vidmate is a great app from genius developer and since a lot of people are using it, they tried to develop an app that will best play their video thereby introducing this app to the public and at the same time promoting the video player which is PLAYit while they force you to use it.
Again, we did not make any contact with Vidmate developers for the confirm reason and this is just a guess and we do not speak on behalf of Vidmate.
Read also:
Download Youtube vanced apk
Download Voot MOD apk
Dowlnoad MOD Netflix apk
Download sport live Streaming app for Android and iOS
However, you should know that PLAYit is also a great app and if you would like to download it, you can simply get it from your corresponding OS app stores.
But like most people, they prefer MX player, VLC and other popular player and since they have those players they don't really think they need any other player. And since most people like to share video with friends you would want to consider friends who do not have PLAYit on their device.
From experience, some people prefer to download movies using Vidmate and then move the file from their mobile device to their TV or computer to watch it there and they usually get pissed off with this errors.
So with that said, we will teach you a trick that actually works on how to play Vidmate video in other video player and across all device using KM player, windows media player, VLC, KM player and other players.
How to fix Vidmate video not playing in other Video player
To fix Player doesn't support this video format in Vidmate you need to understand that this article only helps you in subsequent downloads as the ones you download with the error cannot be fixed at this time.
So for your next download follow the below guide to avoid "Player doesn't support this video format" error in MX player, VLC or other Media player.
The main target is to uninstall the updated version and install the old version as we have confirmed that users who use the newer versions are the ones who see this error. The new version automatically adds code to the downloaded video which prevents you from playing the video on another player.
Follow the below guide to solve the issue.
Guides to solve Player doesn't support this video format
Go to your Vidmate app and Uninstall it
Visit this link to download the old version (v4.1807)
Install the old Vidmate version you downloaded
Exit to Home screen
Launch Vidmate
Click on Me just below the screen
Then click Settings
Click on others
Toggle off Auto-update Vidmate
Now you can now download any video from Youtube and all other sites without any error, you can also share your video as well and play across all Video player on your PC, Android or iOS device. You also need to ignore future update and also remember to turn off auto update in playstore as any update to the app can get you this problem again.
Share this article to your friend whom you think might need it and help them from wasting their data and time downloading videos that will be rendered useless. You can use the share button just at the end of this article. You can also drop your comment and let us know if you gained one or two things from this article.
Never give up……Giving up is meant for cowards