5 top app to watch live sport on iPhones and iPads
Sometimes, you might be in school, on a journey, work station, in a bus or even on a hospital bed of where you probably have no access to a television to watch your live matches. However, we got your back as you can stream and watch live matches on your iPhone or iPad without hassle.
Today, we are here with ios app which enables you to watch sport matches on your mobile device.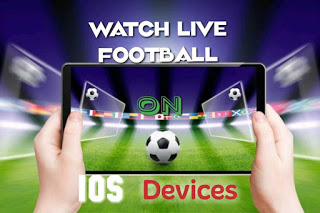 We also posted on this site FREE Live streaming sport app on Android, from the list you have a number of apk android app from which you can choose from to watch your favourite teams play, however, we are here today with the ios version for the article, apps you are about to read can be used on your iPhones to watch live matches and you can't afford to miss this.
You can also read;
Latest whatsapp Aero for 2019 download
Download Korean movies from top sites list
MOD PES 2019 free download
Top Best iOS emulator for PC
Live streaming Sport/Football ios app
• Sport TV Live
Sport TV Live app offers you the opportunity to watch live sports matches on your mobile phone without stress where ever you might be. From Sport TV live, you can allow games, scores, updates and highlights notification. The app is embedded with more than 70 sports stations and covers all major leagues and sports in the US, Europe, UK and Asia.
You don't have to be pissed off, this app has got you covered, you can watch your live matched here.
Download Sport TV Live from here
• Live Sports TV HD
Live Sports TV HD app offers you High Definition visual and standard streaming not only football matches but you can also stream hockey, tennis, wrestling, cricket and other matches. This app is considered one of the best as it runs smoothly even with poor connection.
You can your favourite football or soccer matches like championship, Europa, world cup AFCON, COPA America, Laliga and so on.
Download Live Sports TV HD from here
• Bein sport Connect
This app is one of my favourite, they have one of the best coverage as they cover almost all matches of football, hockey, cricket, swimming Racing sports e.g Formula 1 and lots of other sports. You call stream all matches from anywhere on the planet without breaking a sweat and the most amazing part is the picture is in HD and you get to choose the quality of you want on your ios device.
Download Bein app from here
• ESPN: Live Sports
This name of this app alone is popular as it is famous with its unique name as the name ESPN is known for sport news, analysis and updates, however they also have an app that you can stream live matches from, you can watch your football, tennis, racing, crickets and all other sports from.
You get to watch all football league from all over the world.
You also get real time scores and breaking news and customize content to teams or sports league you want to follow, or view live from their app.
Download  ESPN: Live Sports from here
• Yahoo Sports
This app must definitely be the favourite for NFL and NBA fans,  you get to Stream live regular season games and for the NBA season, the apps also notify you of upcoming matches and it also offers updates to you in a simple form.
You get to watch all the matches of your choice right on your iPhone or iPad. You also have access to Premier League games and other European sports confederations' games. It carries PGA and other golf tournaments, auto racing, MMA and tennis. It is also one of the most widely live sport stream app for ios devices.
Download Yahoo Sports app from here
From all the apps here in this article, all have great interface as they are easy to use, trust me it is just like playing candy crush on your phone, so hurry up and download and start watching free live sport matches right on your iPhone or any other ios device today. However for android users, you can read more on how to stream live football and other sports on your android devices from the link in the second paragraph above (at the top of this article)
If you have any comment or feedback, any problem with the link in this article or any information please make use of the comment box below.
#Never give up………Giving up is meant for cowards