Latest Auto clicker automatic tapper app free for android (No root)
It can be very frustrating to keep clicking on a spot for a long time manually especially if you are playing a game that requires tapping.
Some earn online sites even pay users to click adverts as many as possible and such users get rewarded based on how many adverts they click. Some games also requires you clicking on a particular object as fast as possible perhaps on a chest to unlock treasures and lots more.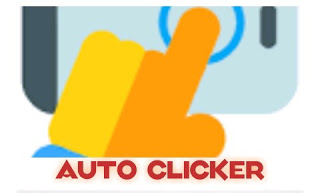 So if there is any reason you need an app that can imitate your finger and click automatically as fast as possible or even slow depending on your intention, Auto clicker Pro is what you need and we are here to offer it to you today.
In today's article we will guide you through on how to download and install Automatic clicker app on your android device.
Before we go into the real deal, lets do a little introduction.
Features of Auto clicker pro apk
• Save you from stress
Auto clicker mimics your finger and do your manual click for you, so it saves you stress of tapping since you can get bored and tired. You can even set this app to click while you do other things or even while you sleep.
• Non root
The app does not require root access as it can work on any device
• Ads free
No annoying advert is present on this app, the developer have done a good job here to provide this app to use for free
• Total control
You get total control, over the app. You can set the tap interval you want the clicking to take place by setting the time interval.
• Easy to use
The app has a simple user interface that even an idiot or dummy can operate. So since you are a smart fellow, it will be so simple for you to use, just try it out.
• Light weight
Automatic clicker tapping app is light weighted and consumes less space that you will not even know you have it on your device. With this app you don't have to care about the installation size.
• Multi-targeting
You can set the app to click on different location depending on what you want to click. So you should understand that apart from the single spot tapping, the app can also do a multiple location targeting.
• Super fast Multi tapping or clicking enabled
This app supports multi-tapping which is as fast as a rocket, so if you want to click as fast as possible, all you need to do is to set the clicking interval to your requirement. You can as well use the app to click on any area on the screen.
• Export and share your settings with others
You can customize the settings to work with an app and then share the settings with other users with the same app which they can import.
• Multiple swipe
The app also works well in swiping, so if you want to use this app to swipe then you must know this app works well for smooth multiple swipes.
• Time efficient
You can set the start time and stop time as well as the click frequency. So it does all the job while you just chill and let it do its job.
Device requirement
Android version 7.0 or higher
10MB storage space
1GB ram
Download information
App name: Auto clicker pro
App size: 3.4MB
App version: v1.2.8
Price: Free
Developer: True Developers Studio
How to download and install Auto clicker pro apk
Download Auto clicker pro apk from here
Go to path; Settings>>Security>>Unknown Sources and tick the box to enable unknown sources. But if you cannot locate the step you are probably using android version 8.0 upward so you just skip this step.
Install the app
Launch the app and provide permission upon request
You can then start using the app
Hope you find this article helpful, do use the comment box to share your thought about the app.
If you have any question or feedback, use use the comment box as well.
Never give up……Giving up is meant for cowards