Chat for free using Bluetooth chat app with no internet
Have you ever imagine if there could be a way to chat without connecting to the internet? Well, Bluetooth Chat enables you to chat for free without data or airtime, infact you don't need an internet connection before you start sharing messages and files. You are amazed, right? Bluetooth chat works like that of a walkie-talkie it is as simple as that, although, this app has its own limitation but before we go into that you need to understand what bluetooth is.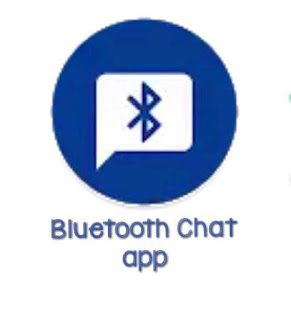 What is bluetooth?
Bluetooth is a wireless technology standard for the exchange of data and files over short distances (using short-wavelength UHF radio waves in the ISM band from 2.4 to 2.485 GHz[4]) from fixed and mobile devices, and building personal area networks (PANs). Invented by telecom vendor Ericsson in 1994, it was originally utilized as a wireless alternative to RS-232 data cables. It has the ability to connect several devices, thereby, overcoming problems of synchronization.
You can also read on:
Free browsing on 24clan
New whatsapp aero
New GBwhatsapp with anti-ban feature
Latest FMwhatsapp with inbuilt app lock
Free PES 2019 ISO PPSP game for android

With Bluetooth Chat you can share messages and images to your friend and you can also chat with your friends but the only limitation to this app is that it is only effective when you are in Bluetooth range. However, no data is required, airtime is not deducted and you can even chat your friends even in extreme poor network connection area. This awesomebApp was developed by
Glodanif. This app has a lot of uses to different categories of people especially students who this may eventually come in handy.
How to download and setup Bluetooth Chat
• Download the App from here, the file is just too small in size, so you don't need a heavy data to download. The app works on all versions of android.
• After complete download of the app, Go to the home screen locate the app, and launch. After opening the app, you will need to provide your "Name" and pick a colour of your choice. Complete all required information and then click on Save.
• Switch on the bluetooth of both devices you intend to connect and click on scan.
• Complete the confirmation process of which a Bluetooth pairing request will shown on your device display.
• Click on "Pair" and the two phones will successfully connect.
After the confirmation procedure on the second phone, you world of free chating has just begun, so start chating and sharing files on Bluetooth chat.
Do you have any questions? If yes, then drop them in the comment section below, if you also have any feedback feel free to use the comment box as well. Don't be selfish share your family and friends via the share button below.
#Never give up………Giving up is meant for cowards