Top rated iOS emulator for your computer
This is a technology age and everything seems easy, if you are wondering if you can run iOS apps on your PC then you are definitely reading the right article. Today, we will give you the top best iOS emulator apps to use on your computer that will enable you run all iOS app you wish to run on your computer or laptop.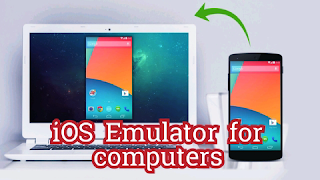 However, we understand some people may not know what an emulator is or they don't understand its full function. So if you are wondering what this emulator does then just continue reading as you will get it to function and use with no stress.
What is an emulator?
In simple terms, an emulator is an app that help you run a program that is not meant for your OS on your device by creating an environment that allows it to run effectively. For example running a PSP game on your android device, running an android app on your windows laptop or Mac book and so on.
You can also read on:
Top best coding apps for computers
Top best Facebook apps for android
How to make your iOS device charge faster
How to root android version 8
How to activate iPhone with no sim
How to fix to allow access please respond 
The emulator creates a virtual environment by manipulating the device Operating system on your computer to run apps that will only work with your phone's OS.
From the above explanation, you should understand that an iOS emulator is an app that allows you iOS apps on your windows computer without having or connecting to an iPhone or iPad. It makes your computer performs the functions of an iPhone or iPad.
So if you don't own an iPhone or iPad and you wish you could run iOS applications on your computer then you would love to read to the end.

Top best iOS emulators for windows PC and Mac
Below are the iOS emulators for your computer, feel free to check their reviews and download the one you like. Also note that all emulator in the list are all best among similar apps of their kind so feel free to download from the list.
1. SmartFace
To experience a smooth running of your iOS app, and zero CPU lagging, Smartface is an app with those qualities. From reviews from emulator users, it has been rated as a very good iOS emulator. However, there are two versions of this app which is the paid and the free version. You are free to download the free version and upgrade later if you wish.
Download SmartFace from here
2. MobiOne
MobiOne has been known to run iOS smoothly and consumes less space compared to other emulators. It uses does not lag your computer and the battery consumption is minimal so you can run this app on low-end computers without any issue. To run iOS games and utility apps you will definitely enjoy this app.
To download MobiOne app you can get the app from here
3. Ripple
Ripple is also rated as one of the best although, it is not an app but a web browser extension and experts users have described it as a fast emulator using less space and other system resources. However, this app has some downsides which is that it cannot run big iOS apps such as games but it is a great app when you use with simple iOS apps.
To get Ripple browser extension use this link
4. IPadian
IPadian, just as the name sounds. It is perfect just as seen in iPad, if you love games then you will enjoy this app as it does not lag your computer and it also works fine on all PC. Experts have also reviewed it as the gaming emulator giving room for great gaming experience.
5. Appetize.io
Appetize io comes with a great interface, it is a user friendly app that works fine with computers. However the most distinguishing feature of this app is it also works as an android emulator, that is, it can also run android OS apps on computers as well. The only downside is you only have free access to 100 minutes and if you want to use more you will have to pay. You will have to register on their website to get started.
To get started on Appetize.io click here
6. App.io
This is also a browser plug-in emulator and it works fine as well as it does not lag nor give your system stress, however simple apps and less complicated apps are the ones compatible with this browser extension emulator so the running of apps such as graphic-intensive apps or games is not advisable as they are likely to not perform well.
To run simple apps App.io is a place to go.
To get started on App.io click here to get started
7. Xamarin Testflight
The last one on the list is Xamarin and this is also a nice emulator app, it runs iOS app smoothly without any lag, it has a very friendly interface and it only runs apps of iOS 8.0 and above. It runs pretty well on computers and it great when it comes to games and other big apps. Xamarin Testflight runs perfectly with no bugs or at the expense of your computer, according to reviews it is trending app among iOS app developers to test apps.
Hope you found the one you like, you can select any one from the list to get started it is as simple as that. If you find this article helpful, why not help a friend by using the share button below to share your friends this article.
If you have any questions or feedback regarding this post, please do use the comment box below to share them.
#Never give up……..Giving up is meant for cowards