PES 20 eFootball iso game file PPSSPP for android
All football games are just fantastic especially those games released recently and PES 2020 is not left out. Today we are here with eFootball PES 2020 PSP iso file which is compressed to save you the download stress.
If you are looking for PES 2020 and you somehow find your self on this page, then be rest assured you are on the right page as we will be guiding you through the entire download and installation process including how to import and implement the save data and texture file of the game till you start playing.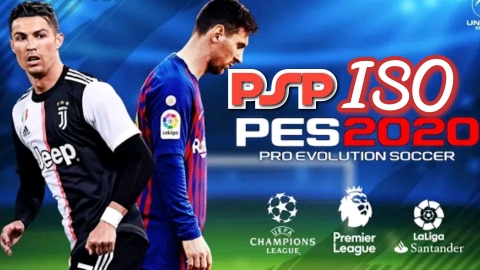 Also know that we added a video to ease the installation in this article so if you are having troubles in the installation you can check the video to get things right, you may also see the gameplay in the video as well.
Hot release: eFootball PES 2024 PPSSPP Check it here
For those that like Pro Evolution Soccer games you will find this football game interesting so just follow this article to the very end to get things in place.
Features of PES 2020 PSP game
• Clean HD graphic
Unlike other football or soccer games, you get all pictures in HD, so if you want to play a game you want to enjoy then PES 20 is that soccer game. If you want the best soccer experience, then this is it.
• English commentary
The commentary is in English so you don't have to worry as the game is delivered in details including player names, stadium names and even managers name.
• Full and new kit and stadium added
The latest team player jersey are updated as well as the stadium. All colour are optimized to fit the normal real life game.
• PS4 camera option
If you will like your game to be displayed in PS4 camera mode then this is it, the game download is in two part which are normal camera and the PS4 camera, if you don't know what this mean, feel free to check out this feature in the video below.
• Latest Player transfer
The game has been updated with the latest player transfer, so keep your football stars playing in your favourite team and win trophies.
• Original logo, kits and emblem
With the save data and texture file we will be releasing, you will get the game fully packed as all emblem and kits are original as well as team names and also player names.
Related article;
PES 2021 PSP download here
PES 2019 iso download
FIFA 20 iso download
Dream league soccer MOD apk (unlimited coin)
Device requirement
Android version 5.0
PSP emulator
Zip extractor
2GB RAM
2GB free storage space
Download Information
File Name: PES 20 package
Download format: Rar file (PSP ISO and game files)
Compressed download size: 760MB
Developer: PES Productions
Publisher: Konami
Important notice
Read the below installation guide to avoide getting error (important information)
How to download and install PES 2020 ISO file on android
Download the PES 20 PSP efootball package from below
• Normal camera ISO
Download PPSSPP emulator from here
Download zip extractor from here
Use the zip extractor to locate and extract PES 2020 package (ISO + save data + texture file)
After extracting the file, move or copy the extracted PSP folder, to device storage (replace existing PSP folder)
Exit to the home screen
Launch the emulator app


Important: Change PPSSPP Emulator language to Espanol by going through path – settings, click System, then Language and scroll down to select Espanol. This is because the game has a bug and selecting Espanol will fix it but note that the in-game language and commentary is still english.

Navigate back to PPSSPP main menu
Click find games tab (Juegos)
Locate and select PES 2020
Finally, you can start your game and enjoy to its fullest
How to import Save data and texture file in PES 2020
To make sure all latest transfer, original logo, kits and stadium takes effect, there is the need to apply the save data.
Follow the below guidelines to import the files.
Go to the PES 20 PSP package you extract earlier
Move the texture file to PSP– TEXTURE and save data to PSP– SAVE DATA
If you cannot find the destination folder from above, you can simply create those folders in the PSP folder.
That is all on eFootball PES 20 PPSSPP game installation guide, we hope you like it. Do follow the steps to avoid issues with the game and remember to change the Emulator Language to Spanish by going to Settings, click system, click Language, scroll down and Click Espanol (America Latina) to avoid dark screen.
If you are still having issues with the game, share your thought in the comment box below and we will respond ASAP.
Never give up……Giving up is meant for cowards