Guides on how to flash stock rom with SP flash tool
Having problems with your android smartphone or got your phone bricked? Or you just got an upgrade you want to implement on the OS of your android device then SP flash tool might save you from all your stress. In today's article we will guide you through the process of flashing stock rom on your device with the use of SP flash tool. Follow all instructions carefully to attain the best result.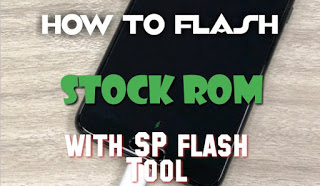 Before we go into how to start and complete the process we need to understand what SP flash tool is.
What is SP flash tool?
SP flash tool is also know as SmartPhone flash tool, Sp Flash Tool is a software that is developed by the MediaTek company to improve the performance of their device processors. SP flash tool is a program which is purposely developed to flash Stock ROM, Custom recovery diagnosing and solving device critical malfunctions and also for firmware update, Flash recovery, unbricking bricked android device and many other functions.
Requirements
A computer to install SP flash tool (windows or linux)
At least 50% battery charge on your android device
A very good USB cable
SP flash tool app and USB driver (links below)
Scatter file of your device (this should be in the the stock rom or custom rom you downloaded for your device)
You can also read;
Fix "to allow access please respond" on iPhone
How to flash stock ROM of MTK device
1. To flash stock rom of your device you will need to download SP flash tool and Android USB driver
2. Extract SP Flash tool
3. Install the USB driver
4. Get the stock Rom or custom rom you want to flash on your device by downloading
5. Switch off your android device, remove your battery and if your battery is in-built, skip to the next step
6. Open the folder of the SP flash tool you extracted, locate and launch Flash_tool.exe
7. Click on Download on the bar at the top
8. Next is to open the scatter loading to access the scatter file
9. Now from scatter loading, go to the stock rom you want to flash and select the scatter file (it should be in scatter.txt format)
10. Click on download to start your flashing
11. Get your USB cable, attach your android device (make sure your device is switched off and remove battery if it is not in-built).
12. Press and hold volume up button (or volume down in some device) of your device for some seconds to sync with your computer.
13. And that is all, once the flash process completes, you will see a green signal "Download OK"
You can then terminate the app and detach the USB cable from your Android device.
Power up your device and everything is back to normal, and that is it you have successfully flash stock rom on your android mtk device.
Please feel free to use the comment box if you have any questions or feedback and do share your friends who might find this article helpful.
Thanks for reading.
#Never give up…….Giving up is meant for cowards