Top 4 methods to unroot your Android device
People opt for rooting to have full access to their android device and control all activities. The capacity to which you can control your device with root access is unimaginable for those that know their way around android devices.
However, you can be tired of rooting and consider unrooting your device and if that is what you want, then you are at the right place.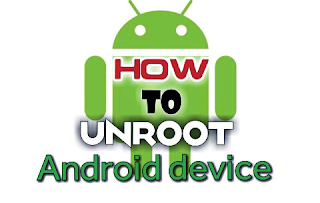 So today, we will guide you through on how to unroot your android version 7.0, 8.0, 8.1 or 9.0 manually or any version of android version you may have with or without a computer, the process that will be discussed in this article will work for you.
So sit back, read the article to the very end to grab all the information and unroot your device.
Related articles;

How to root Android 8.0 and 8.1 Oreo
How to root Android 9.0 Pie
How to flash stock ROM with SP flash tool
How to fix fast charging not working
How to activate iPhone without sim card
How to unroot your Android device
The following methods are simple ways to unroot your android device manually and some of these method can be used to unroot your device computer. Below are the top 4 ways to unroot your android.
1. Unroot using SuperSU
If you know how to open a door, then you should also know how to close it. It is the same here SuperSU is used to enable rooting access so is also unrooting your android device.
For this method you don't need a computer, just follow the below method and you should be ok.
Launch SuperSU app
Navigate to settings
Click the Full Unroot option
Follow the process and upon successful unrooting
Restart your device and your device should be rid of root access.
2. Unroot using stock ROM
Installing a device stock ROM can also do the job, and this has been highlighted as one of the best way of unrooting a device.
You should also note that this is a method to unroot your device with a computer. So with this, you will need to download some computer software and also a firmware or the specific stock ROM for your device. However, we cannot talk much on this as most devices have different ways of installing stock ROM, so I will advise you to browse and download the stock ROM for your specific device and also search for how to install the firmware of your specific device and make sure you indicate your device name and model when searching.
3. Unroot using third party application
There are some pre-loaded app, developed to unroot the rooted devices, this is one of the easiest method but one problem is that it may not work at all or efficiently for all device but who knows you might be lucky if it works for your device.
So if you want less stress or you are not too familiar with device tweaking, you might want to opt for this option.
Common apps with such functions include; Simple Unroot or Universal Unroot you can also search play store as we have other apps which can do the job.
4. Unroot manually
You can simply remove apps installed that gave your device root access. Since rooting is basically installation of some app forcing or changing the pattern of how your device works.
So to unroot, you can simply remove those files and apps to unroot your device manually. To do that, follow the below steps to accomplish the process.
Download File Explorer from here
Install the app
Launch the app and click the menu icon at the top left of the screen
Scroll down and enable Root Explorer
Go to internal storage
Navigate to system, click on bin
Delete busybox file and su, if you can't find it try the below.
Navigate to system in inrernal storage, click on xbin
Then click xbin, check for busybox and su and delete them.
Then go to the system folder select app
Delete superuser.apk
You and then back out
Restart your device and your device should be back to normal.
With the options above you should be able to successfully unroot your android device. Let us know if the methods work for you. Also share this article to your friends who might need this using the share button below.
#Never give up……Giving up is meant for cowards