App Has Stopped Error message on Android phone
Android devices can sometimes be frustrating when you receive app has stopped, which will definitely restrict you from using the app in question however, getting a solution requires some set of steps.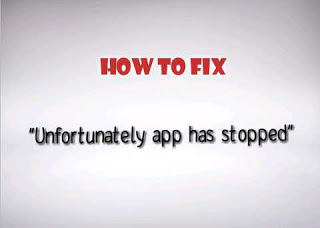 Some of the messages you can encounter with this issue are many, messages include:
Unfortunately message has stopped
Unfortunately keyboard has stopped
Unfortunately Candy crush has stopped
Unfortunately Youtube has stopped
Unfortunately google play has stopped
Unfortunately the internet has stopped
Unfortunately messanger has stopped
Unfortunately com.android.phone has stopped e.t.c
This error message causes Applications to suddenly stop working which is a problem many users complain on daily basis. This is an unusual error as it occurs while you are using an App and it unexpectedly stops working and crashes. You are brought back from the App screen to the Home display of your phone with the absurd message saying:
Unfortunately, application has stopped working

An exmple of app has stopped
As you are going through some applications on your phone or you just switched on your phone and you get this error message which actually mean the app have crashed
The bitter truth about this error is, it keeps popping up unless you fix it.
You can also read on:
How to root android version 8.0 & 8.1 Oreo
How to fix cannot connect to camera on android
How to flash stock rom on MTK device
How to restore your windows PC
How to fix phone and PC connection issue
How repair dead or weak laptop battery
However, you have no reason to panic, you will be able to fix it easily after reading this article so just follow along.
Why am I seeing this message?
The reason is not far fetched, it is just some issue in technology nothing is prefect and at times things can actually get a bit messed up. It is just that somewhere down the line some data got lost or couldn't be tracked and Google Play Services ended up losing that connection, so it stopped. You simply need to try to fix it in order to put it back on and enjoy using your phone.
Steps to fix app has stopped
1. Clear app cache
The most effective way of getting rid of error "app has stopped" is clearing the cache now lets take Google play service for example, You can as well do this for other apps, follow this procedure.
• Navigate to Settings on your Android smartphone.
• Tap on ' Apps' or 'Applications ' or apps & notification on some phones depending on the OS version of your device
• In App manager, you will see a couple of 'Tabs' at the top of the page such as All apps / All,
Installed / Enabled, Disabled , Running, etc. Click on, (for version 8.0, 8.1 and 9.0, just skip this step and tap on show all apps)

• Find the 'Google Play Services' app or the app the problem. The apps are listed in alphabetical order, so simply navigate to 'G' and find 'Google Play Services' and select it.
• After opening Google Play services app, you should see an option to ' Clear Cache ' for the app. If you don't see the 'Clear Cache' option, there should be ' Storage' option, tap on it, and here you will find the 'Clear Cache'.
• Tap on the clear cache button, restart your Android phone, and the deliverance section for your phone is over.
However, if the error message still keeps coming, then try the next solution technique, just keep reading.
2.Troubleshoot your SD card
If you don't use a memory card or SD card, no need reading just skip to number 3 fix option.
The error can actually arise from corrupt or bad memory card. If the SD card is corrupt, then any apps installed to the memory card will definitely be a victim of this kind of unfortunately app has stopped error.
To troubleshoot this, switch of your phone, remove the memory card power up your phone and launch the app that has crashed. If it works, then you have arrested the criminal. If this turns out to be the case, you'll need a new SD card, however you should be able to do a backup of the files on it after purchasing a new one.
You say what! the message still keeps coming after doing that? Well it seems your phone is a stubborn one (just kidding anyways). Don't panic, get your self a cold water, and try the next step (believe me you will thank me after reading this).
3. Re-install application
Most of the time, "unfortunately Youtube has stopped, unfortunately, Internet has stopped" and other errors are due to improper or wrong App installation. You are adviced to always download Apps from the Google Play Store and use it after it is successfully installed on your device.
To go about this step, you need to first uninstall the app in question, here is how you do it:
• Navigate to "Settings" and search for "Application Manager" or "Apps" just like the way you did it in the first option.
• Select the App you wish to uninstall, say for example "Candy crush".
•  Simply tap on "Uninstall" to delete the App from your device.
Note that:You can also uninstall an App directly from the Home Screen without going to settings by just doing a long tap on the app or uninstall from Play Store.
• To re-install the App, visit Google Play Store, search for the App name and click on "Install". You will also find the deleted App in "My Apps and games" on your Play store.
This technique has solve many problems which might also help you too. So don't hesitate in trying it.
The message should have vanished by now and if not, then try the next fix below.
4. Factory reset
Well, it pains me to tell you that factory reset is the last option. Factory Reset is only used when nothing else works. So if the above fixes did not work for you then this is what you need.
Note: Don't forget to do back-up of all your data and contents on the cloud or an external storage disk before proceeding with this method because performing a factory reset on your smartphone will completely wipe all music, movies, photos, settings and documents. So it is mandatory to back up your file because after you complete this step your phone will be as good as new. So as not to lose files you are advised to do a backup.
Follow the step-by-step explanation given below to factory reset your device to fix the crash message:
• Navigate to "Settings" on your phone.
• Scroll down and select "Backup and Reset"
However if you don't see that, you are definitely using the latest version of android, you should scroll down to "system", "reset options", and then click on "erase all data or factory reset".
• Finally, tap on "ERASE EVERYTHING" or comply with any confirmation message displayed. • Once the factory reset process is complete, your device will automatically restart and you will have to set it up once again. That is all we have for you.
Conclusion
The error is common in android device today however, if you experience such error message, it does not mean you have a faulty phone so anytime you experience such error Just try the methods listed as the error does not come frequently once fixed.
Do use the comment box below if you have any question or feedback and if the fixes work for you.
#Never give up……..Giving up is meant for cowards