Top Free site to stream movies without registration
Streaming of movies is now a popular thing practised by lots of internet users and getting a good site to stream your movie or video without sign up or membership account is of great importance. Free sites to stream single and series movies as well as reality TV shows and also musical video sites do actually exist and that is all we provide today.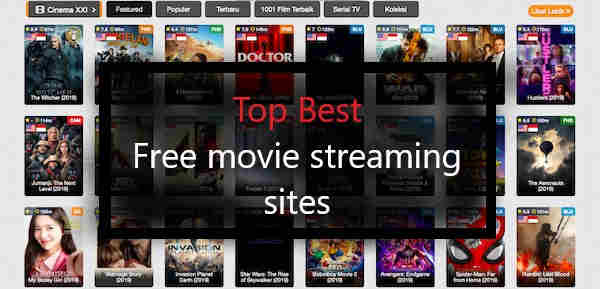 With these sites, you don't have to pay or even register as a member. All you need is to search for your video and start streaming. Most people are discouraged to use streaming sites since most of them require a subscription to view and most users do not have money to pay, hence they find it hard to watch TV series, soap operas and other great movies.
So today, we are here with good news although, some of these sites display ads I assure you those ads are not annoying so you get to stream movies free of all costs. However, don't blame these sites with ads as they generate funds from them to maintain their site since they provide free access to users. So lest sees the best site to stream movies without signing up.
Top 14 best sites to stream movies without signing up
WatchSeries is a site known for its consistency in updating its collection with the latest movies. You get to stream movies with no sign-up. The site has a nice interface which enables easy navigation. You can stream TV series, reality shows, musical videos, Korean dramas and lots of movies to get your day rolling.
This is yet another free online streaming site for movies. Here you also have access to the latest movies in HD format and you can also stream from this website for free but you will be required to sign up. You will have access to movies on Crackle from all over the world.
However, one of the downsides of this website is that it is not available to all-region. But we have a solution to that, so here is the fix, if you are not permitted to use their streaming service (it displays "out of the region"), simply download a VPN app for your device, activate it and try streaming. You should now be able to stream this free movie site without any other restrictions.
This is another streaming website with a user-friendly interface, here you will see a number of ads but not too annoying as you can cope with that. However, be careful not to accept notifications from those pop-up ads as they are not really healthy for your device. They also have varieties of movies arranged by genre so you don't have any problems while searching manually. Feel free to explore this site, so go ahead and stream from this best movie streaming site.
Vudu is a free streaming site and yet with no registration or sign up required. They tons of movies in their library. This site offers free service as well as premium service. Some videos on this site are free while some are not which will require you to upgrade to the premium version.
You have free access to only classic movies but if you want more then you will have to pay a token to upgrade to a premium version.
f you are looking for the site with the largest movies in their database then, Fmovies is definitely what you are looking for. Sign up is also not required yet you can surf all their movies here without restriction.
However, if you are a user who uses an ad blocker on your browser then you might have issues using their service. Also, Fmovies displays ads frequently but trust me, you can cope with it. However, you do not accept notifications pop-ups notifications to avoid issues on your device.
Our list will not be complete if  PutLocker is absent. This is one of the most popular streaming sites we have online today and you can stream movies for as long as you want since they have a large library of movies which you can surf and yet no sign up is required. One downside is you get ads on every link you click but you can simply ignore those ads or close them if you are not a fan of ads.
Movies are categorized by countries, genre, ratings and also date released to make things easier for users.
This is another site with similar behaviour as putlocker and they also have a large number of movies in their library. You get to select the movie quality you to stream and start streaming. Also here, you don't need to sign up before you start using their service.
An advantage here is that ads are absent, so you get to use this site without those annoying ads although you only see an ad once when you click on a video to watch.
This is also one of my favourites, So I thought it would be nice to add it to the list. All movies are arranged by date and genre so if you are a fan of comedy movies, you simply have to browse the movie my genre and you see all movies in that category.
Popcornflix also has an app for free download, so if you are interested you can download their app from their website as it is available for all OS. All movies are displayed in high quality but you also have access to choose the quality you best prefer.
This is yet another great site for streaming, they also have a mobile app for android and iOS devices but one problem is the app is not available to all countries, and you also need to sign up to use their streaming service.
But here is a trick, the app does not require signing up on a desktop computer as it is only required on a mobile device. So you can simply opt for this app on your desktop if you are having issues.
It has a nice interface with lots of movies to stream, you need to sign up and can sometimes require you to pay a token on the subscription in order to gain full access to their service. You are allowed to stream movies for a large genre ranging from Thriller, comedy, Sci-fi, Romance, Action, horror and all other movie categories including animations. You might have connection issues since there is a body that disconnects IP addresses if they notice some illegal activities against their policy so you may sometime have problems solving CAPTCHA to prove you are not a robot. However, you can fix this by installing a VPN.
Afdah is also a great site with lots of movies and you would love this site since they also have a user-friendly interface and well-arranged videos in their library. However, you will experience ads but you can cope with that and also do not accept notifications from pop up ads while surfing.
No sign up needed to watch movies here, you have access to movies in their best quality, and you experience no glitch whatsoever. But, you experience some ads on links you click before watching movies. 5Movies has lots of movies for streaming and you can stream from a wide category of movies. Here if you love TV series, Soap operas, reality shows, comedy shows etc. You will get tons of them here.
With PrimeWire, you will be enabled to watch free movies and other videos which you can browse from the large collection of movies from the website. TV shows are updated on regular basis and watching from this site is always fun.
You get high-quality movies and yet with no sign up required to surf movies from their site.
The last on our list is YesMovies, it is not on the list because it is the least good but it is also one of the best and that is why it is listed here. You get a large library of movies here. But you might also experience ads displaying on your screen which I believe you can still cope with. You have lots of video content you can stream with zero restrictions.