Download Fifa 23 PSP ISO file Normal camera PS4 & PS5 Camera
Are you on the search for the latest version of FIFA PSP soccer game? We are here with FIFA 23 for you and it is highly compressed. The game features the latest transfer of the year 2022/23. Players like Erling Haaland to Manchester city and Raheem Sterling is now in Chelsea to mention few.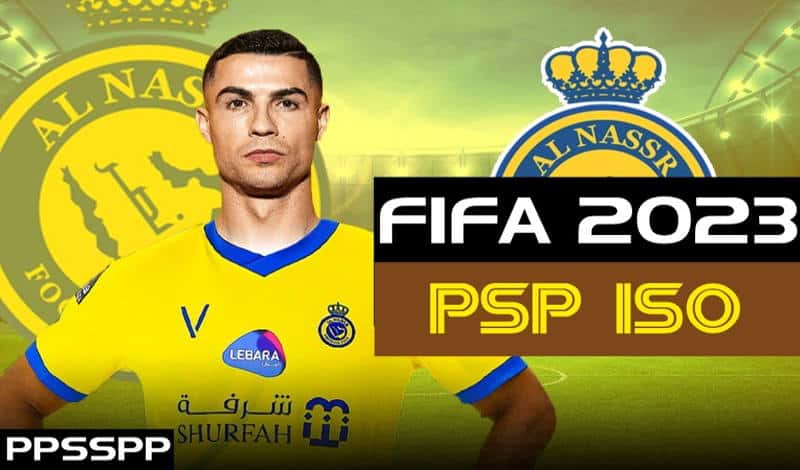 FIFA 2023 PSP soccer game PPSSPP file can be played on a variety of platforms, including Android and iOS mobile devices and desktop computers. To get started, you'll need a PSP emulator for your device and the zip files we've provided. We'll be focusing on how to install Fifa 2023 and play it using PPSSPP, a free Android emulator.
It is also compressed to save you time and internet data by making the download process easier.
We've also included a video for those who prefer not to read; please scroll down to the tutorial video below. Remember to subscribe to our Youtube channel so that you can receive notification automatically when next we drop another game file.
SEE ALSO: EA Sport FC 24 PPSSPP download
Check out PES 2022 from here
Download Information
File Name: FIFA 23
Download format: Rar file (PSP ISO and game files)
Last Update: May 2023
Compressed download size: 1.1GB
Developer: EA Sports
Device Minimum Requirements
PSP emulator
2GB RAM
2GB Free storage space
Quad-core processor
Android v5.1
Features of FIFA 23 PPSSPP soccer game
• Awesome Graphics
Improved visuals have been added to the most latest edition, FIFA 22, and greatly outperform past games' graphics. The pitch, ball, and players all appear more realistic in FIFA 22's high-definition display. For your convenience, we've included links to the game's Normal and PS5 camera modes, so you may customize your experience to your preferences.
• In-game Language
The in-game language is English so I can guarantee all the text will be displayed in English. However, the in-game action will make you love this game it more.
• Commentary
Commentary language is in English, it is loud and clear. You will enjoy the game with the calling of the players names as well as the comment of the commentators
• Easy Download
The game has been highly compressed and uploaded to Mediafire for you to easily download within a short period of time thereby saving your time and internet data
• Power usage
While it is true that games take more battery when in use than when the device is idle, the Fifa 2023 iso file for PPSSPP utilizes less battery, allowing you to play for longer without having to charge your smartphone more frequently.
• Latest transfer implemented
For example, Lewandowski has joined Barcelona; Raheem Sterling has joined Chelsea as well as Dembele; Erling Haaland is now at Manchester city to mention few; and even Teams's new players and manager have been updated as well.
• New tournament
Tournaments and cups like Master League, Become a legend, Copa and so on have been added to the list of tournament, so get started and start kicking the ball till it hits the net.
• Jersey and Emblem have been updated
FIFA 2023 has been patched to include the team's original name, outfit, and logo. You will receive all updates, including any changes made to Jersey or to the players and clubs.
• Player's movement and celebration
Individual player has their own special movement, playing style as well as skills and goal celebrations. All these features have been embedded in the Fifa game.
Also check the below video for visual installation guide and gameplay
See below for the gameplay and Installation process
Gameplay here
If you would like to change your game Camera to any one of your choice (Normal, PS4 and PS5) Click here and Download file here
How to download and install FIFA 2023 ISO file
Download PSP emulator
Download zip extractor
Once the download is complete, use the Zip extractor you download above to unpack the FIFA 2023 PPSSPP package
After extracting the file, open the DATA folder
Copy the PSP folder, go to your internal storage and paste and replace the initial file there
Also, extract the game file and move to the PSP_game folder to Game folder in PSP
Exit to the home screen
Launch the emulator app
Tap on the find games tab
Locate and select FIFA 2023
Before you start your game make sure you change your PPSSPP app language to Espanol to avoid black screen
How to import Game Save data and texture file
Follow the installation guide above, and your save data and texture file should be where they should be.
Let us know if you need help setting up the game by watching our video or by commenting below. You can also share this article with your friends by clicking the share button below.
How to Import February 23 Update
To make things easier for those that have download the game last month, you can still download the game if you have not before (link above) we have decided to make only the SAVE DATA file to enable you have the latest transfer update. Follow the below step to get the SAVE DATA in the right place.
Download the file from above (1.5MB)
Open ZArchiver or your file manager
Find and Extract the file you download
Locate the PSP folder from your internal storage
Replace the SAVEDATA folder you see there with the one in the file you download here
We will soon provide a video to make things easier, feel free to search DEMOGIST on Youtube, SUBSCRIBE and you will recieve update when we drop game tutorials and gameplays.
I see 2019 instead of 2023, what do I do?
First, you need to understand, that the base file of the game is from 2019's. Don't be confused as this doesn't mean the game is not for FIFA 2023. The solution to this is that you need to import the game files (Save data and texture file) the right way. To do this, simply follow the steps 5 & 6 in the installation guide word to word or simply watch the video in the article step by step to get things working.