How To Check Your BVN number On all network
BVN is very important today and a lot of people still don't realize the usefulness however, one way or the other we still have to check and make use of the number when the time comes. In this article we will teach you how to check your using your phone on all network. The world is revolving that even a time is coming when we will stop using this physical money and start paying for everything using the ATM card. But before we go into details, you need to know what a BVN is and the aim behind its existence.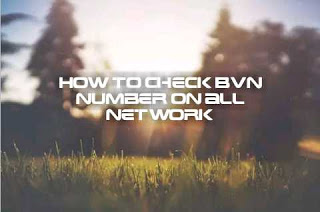 What Is A BVN number or what does it mean?
BVN is the acronyms for Bank Verification Number, a unique 11 digit number assigned to every bank account holder in Nigeria. The number is stored in the CBN (Central Bank Of Nigeria) database and include bio-metric information of the account holder. As stated by CBN, this number, helps prevent fraud and money related crimes especially in the banking sector.Because of the uniqueness of this number, each person can have only one BVN number even if they have multiple accounts. Those who operate multiple bank account can link their BVN to their various accounts, this in turn help to check for fraud, it also help in bursting those guilty of asset declaration related crimes.
You can also read on:
Download GBwhatsapp, with anti-ban feature 2019
How to create Paypal account in Nigeria
Have you forgotten or lost your BVN?
Well, you don't have to panic, believe me you are covered.
The CBN and Telecom companies have made it easier to request for this number by using your mobile phone.
Those who have a bank account in Nigeria can easily check theirs by dialing a simple code on their phone or by sending a text message. This services is available to customers who uses prominent mobile network i.e MTN, Airtel, 9mobile and Glo.
How To Check Your BVN On Your Phone
Prominent mobile networks in Nigeria have embedded a service that lets you check this Bank verification number with your handset. Use the mobile number you used when registering for BVN to dial the code we will discuss pretty soon and that's all.
• Important note: Remember to use the phone number linked to your BVN as if you don't it is not possible to check with other number. This is the number you used in registering when filling the BVN registration form.
How To Check Your BVN On MTN
To check yours on MTN, simple dial *565*0#. Upon dialing this code, you will get a response with the full number and a service fee of N20 will be deducted from your MTN account balance.
 I advice you put down this code somewhere safe maybe a diary so you don't have to pay every time you want to check your BVN.
How To Check Your BVN On Airtel
To check yours On Airtel, simple follow this simple guide
dial *565*0# and you will get a response with the number. Airtel charges a fee of N10 for this service.
How To Check Your BVN On Glo
Actually checking on Glo or any other mobile network provider requires that you dial *565*0#. Remember that a service fee of N10 will be deducted from your Glo account balance.
How To Check Your BVN On 9mobile
To check on 9mobile, simple dial *565*0#. 9mobile charges N10 for checking your BVN with your phone
Well that is all we have for you today, do drop your comment if you have any questions, and don't be selfish use the share button below and do your friends some favour.
#Never give up…….Giving up is meant for cowards