How to fix screen resolution problem on Mini Laptop
Many have complained about resolution errors on netbooks or Mini laptops as many people would like to call it. It even prevents users to use some preloaded windows apps by displaying errors like "This app cannot open, the screen resolution is too low for this app to run, change your screen resolution". Some people even experience difficulty using apps due to big icons and poor display.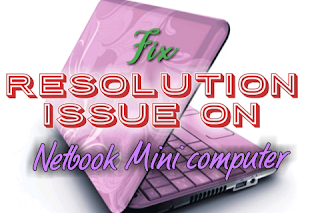 Mini laptop is widely used by a lot of people due to its small size and its long-lasting battery on the netbook, the lightweight is what many people consider before purchasing netbooks. But one major problem is the screen resolution which the computer users kept complaining about. However, it is no longer a problem since you are reading this article.
However, if you try to increase the resolution manually or get higher through the normal setting, you will be surprised it is at its highest which is 1024 x 600 in most cases, this is because Many netbooks come with a default 1024×600 pixels.

So today we are here to guide you through on how to solve this resolution problem on your computer, so feel free to read to the very end and if there is any part you don't understand please do use to comment box.
You can also read;
How to fix an overheating laptop
How to fix phone and PC connection problem
How to restore windows PC 
How to revive dead or weak laptop battery
How to delete Netflix account user profile and history
How to fix image parsing error on Photoshop
How to increase resolution on Netbook mini laptops
To solve the resolution issue on your mini-computer, you will need to get into the system registry to do some tweaking, so follow the below steps to get things done;
Press window + R on your keyboard
Type in Regedit and hit enter
At the top bar, tap on edit
Click on Find and type in Display1_DownScalingSupported
Once your search is complete, There should be two of its occurrence
Change the value from 0 to 1
Make sure you change for both cases so as to ensure you get the expected result.
You can then restart your netbook laptop
After restart, go to settings and change your resolution
You should then be able to increase your resolution to 1024 x 768 which is OK for most programs.
With the above, you should then be able to get your resolution higher and if you find this article helpful, you might want to share a friend using Mini laptop or Netbook computer who might also be faced with a similar resolution issues. Make use of the share button below. You can also use the comment box below to share your thought or get your feedback across to us.