How to activate MTN 1GB for N100
Free browsing Cheats are really hard to find these days, but we still have cheap data lying around but people are simply not aware of it. So today I introduce to you MTN cheap data where you get 1GB data plan for just N100 (a hundred naira only) and it is valid for a month. It is awesome isn't it.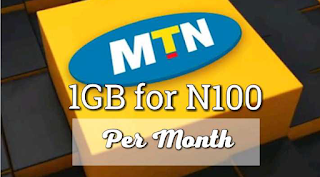 You may be wondering how that is possible, well don't stress yourself, you should have heard of the 1GB for N200 or the 4GB for N800 which is working perfectly up till now, and if you have not yet heard about it then you are missing a lot.
However, this data plan is for a selected number of MTN users which implies that the data plan is not available to everyone. So, to check if you are eligible read below.
How to check your eligibility
To check if your MTN line is eligible for the 1gb for N100, make sure you don't have airtime of N100 and above on your line, anything less than N100 is OK. Don't worry your money will not be deducted, it is just a method of checking if you are eligible for the offer.
Read this;
Free browsing with Stark VPN Reloaded
So if you have no airtime or minimum of N100 you can then dial *131*100#, after dialling the code you should see a message like this;
Would you like the 1GB monthly data plan to auto renew on expiry
1. Yes
2 No
Simply select 2 which is No. You may select Yes if you wish.


Once you reply with either yes or no, you should then see your eligibility status, if you are not eligible you will see a message exactly like the one below.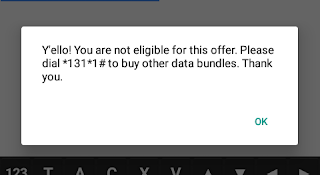 And if you receive a message like this one below;
Y'ello! Activation of WelcomeBack 1GB Data Plan failed due to insufficient balance. Dial *904# to recharge from your bank account OR *606# to borrow airtime.
Then congratulation you are eligible for the offer.

How to subscribe for 1GB data with N100
• Visit an MTN shop to buy airtime, you can as well buy directly from your bank account or even borrow by dialling *606#.
• Once you have the airtime loaded on your line, you can proceed and dial *131*100#
• Decide if you want auto renewal or not and hit your desired option.
• That is all, you can now start to enjoy your browsing at a cheaper rate this October 2019.
• You can dial *131*4# to check your data balance
Please do comment if you experience any issue, and if you have any questions or feedback, do drop them in the comment box below.
You can also share your friends via the share buttons below, so hurry up and share the good news with your friends.
#Never give up……..Giving up is meant for cowards