MTN Yafun-Yafun bonus tariff plan
Yeah! MTN is back with another tariff plan, MTN YafunYafun is a tariff plan with awesome bonus airtime and cheap data plans, and this is one of a kind and you can't afford to miss this. From survey MTN have discover some people love to have more data compare to call time while some prefer to get more airtime compare to data.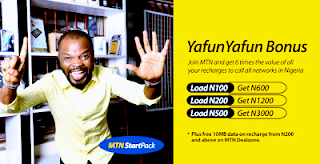 However, MTN have tried to balance the equation with this new data plan called StarkPack also known as Yafun yafun and this is a plan you will definitely love. For those that loves to get cheap data worth of 3GB for N1000 we will get into that pretty soon, so keep reading
What is MTN YafunYafun Plan?
MTN StartPack is a trending tariff plan that offers MTN users 700% bonus on every recharge made by them. For instance, when you recharge N100, you are automatically given N600; N200 for N1,200; N500 for N3,000 and so on.
There is no cheating here as your bonus last longer than you can imagine so you have nothing to fear.
MTN YafunYafun is a new tariff plan that offers New MTN customers lots of bonuses immediately after registering and activating a new SIM. And the bonus can be utilized for as long as three month.

Feature of StartPack (Yafun yafun) tariff plan
• 700% bonus on EVERY recharge, valid for 7 days.
•On every recharge of N200 or above, you get 10MB
• Free access to WhatsApp weekly, valid for 3 days.
• Double data on all data subscription.
How to activate MTN YafunYafun bonus Plan
1. Visit an MTN shop today and get your new Sim
2. Activate your sim card after registration.
3. Select MTN Yafun Yafun tariff plan from USSD Menu that will be displayed
Note that: You are migrated to YAFUNYAFUN if you ignore other options by default.
4. You get 700% anytime when you recharge your line.
You should also be aware that, After 3 months you will stop receiving the bonus on your recharges and the system will automatically migrate you to MTN BetaTalk tariff plan. So why don't you use this opportunity to utilize this opporrunity.
To check your StartPack bonus, simply, you can dial *559*17# or *559*43# to check bonuses you have.
How to get 3GB for N1000 on Yafuyaun
Following their announcement as thus;
Pick up a new # SIM today and get double data on our network #JustForYou. That's right, you get 3GB data for just N1000. #MTNYafunYafun
• After getting your MTN 4G sim card
• Register and activate your line
• Load your line with the desired amount of airtime needed for your data subscription.
• Dial *131#.
Follow the USSD menu to proceed with your purchase, you can choose from other subscription depending on your taste but i will recommend you going for that of N1000 for 1.5GB and you will instantly get 3GB for your N1000 subscription, you get this offer because MTN is currently offering double data bonus on this tariff plan.
I hope you enjoy the data offer.
Do use the comment box if you have any question or feedback
#Never give up………Giving up is meant for cowards