Online Registeration for NYSC stream II 2019
Are you a graduate and you are looking foward to begin the service to your country, then you should be aware that the NYSC registration portal will be available from 19th June 2019 to 17th July, 2019 to enable you register for the 2019 Batch 'B' Stream 2 mobilization. I am sure you are happy to hear that, however you need to read this guide for your successful and stressless NYSC mobilization registration.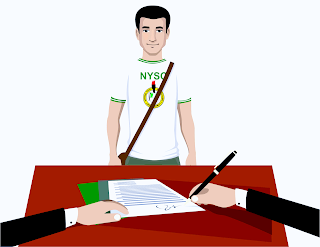 Important things to note before you start registration
• You username and password are very important, treat then like egg and don't forget them, you should use something you can remember.
You may also want to read;
How to print JAMB admission letter
New year wishes for loved ones
• Don't allow anyone to stand in your place i.e you should take pasport yourself, thumb print and every other personal detail must belong to you.
• Upload clear documents required e.g your pasport photo.
• Do a frequent check on every data you enter to check for
mis-spelling or error for timely corection.
• You should have a functional e-mail address along with a functional phone number, as you will need those althrough your service year.
• You are to use your exact matric number for registeration
• For home based graduates, you are only permited to register on NYSC portal if your name is confirmed on the senate list (link below)
• For foreign school / based graduate you should note that only accredited institution are allowed to undergo the process and if you are not sure if your institution is accredited, you are to visit the Fed. Minidtry of Education.
• Married female must produce marriage certificate, change of name and address of residence of your partner, however, pregnant and nursing mothers will not be allowed in the camp.
•Foreign graduates are then to proceed to the NYSC portal and upload the following documents;
O'Level result with a minimum of 5 credit not more than two sittings from either WAEC, NECO, NABTEB or equivalent if you attend other schools outside Nigeria.
Official transcript of your programme
International travelling pasport with accurate details.
For graduates from non english speaking countries, get your documents translated to english before uploading on the NYSC portal. It should aldo be tendered for verification for physical verifying.
• For Foreign school graduates should NOT visit NYSC Headquarters, Abuja, for physical verification of their documents. All vetification are done in orientation camps. They are to print their call-up letters online and report to the orientation camps in their states of deployment. You are also adviced to visit the camps with your original documents uploaded for verification.
• It is the responsibility of the prospective corps members who studied in non-English speaking countries to get their Certificates and Transcripts translated into English language before uploading. The translated transcripts and certificates should also be presented for physical verification.
• All foreign school grads. who registered but were not called up for service in the last batch should log on to the NYSC portal to revalidate their registration you are not to pay the N3000 anymore.
• Provisional certificates, To Whom It May Concern, on-line print-out, scanned and photocopies of credentials are not acceptable.
• The N3000 to be paid on the NYSC portal is for those who want to either recieve their call up letter by Message or print online however, if you are not intrested in paying you should then note that it is not compulsory as you are to go to your respective schools to obtain your call up letter.
Married corp members are to produce marriage certificate
Registeration procedure for NYSC for the year 2019
• Click here to verify your record from the senate list
• Visit the NYSC portal here
Be adviced, there will be no more registeration once portal is closed, so be fast about it.
• You want to register for the first time? Then find and click Registration for Mobilization 2019 Batch B on the webpage
• However, if you regisered and did not conclude your registrarion and submit, you should remember you already created an account, therefore there is no need creating another, navigate to login here and tap on on it. Ensure you have that in mind.
• If you did your complete registration in the previous mobilizations but was unable ot procced or attend the ortientation camp your are to select the Revalidation to re-activate it
I am having issues with NYSC mobilization, what do I do?
If you have similar question as the above question, don't pannic yet as you can contact the following number based on the geo-political zones where your school is located
North Central – 08092142614
North East – 08102790538
North West – 08092142661
South East – 09038034460
South West – 07019190810
South South – 08083201956
If you have any other issues or problems about the NYSC batch B stream II (2) registeration guide 2019, do use the comment box and you can share other graduates who might need this article with the share button just below.
You can as well check out awesome posts from popular posts section below, you might find something interesting.
#Never give up………Giving up is meant for cowards