How to get MTN 4GB data for N800 only
To get a long lasting data is an adventure these days, however, today I bring you good news. You can now get MTN 4GB data for as low as N800 for a month. It is similar to the new 1gb for n100.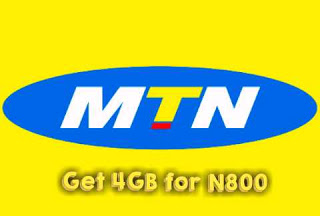 MTN is offering Free Data through their Welcome Back Pack so you should know this is not a cheat and it last longer than expected. Unlike from the normal 1.5GB you get with N1000, you get to save N200 and you also get additional 2.5GB compared to the normal data plan.

You can also read more on;
— Unlimited browsing via Http Injector with Config file
—Tweakware vpn free browsing cheat for GLO
— 24clan VPN free browsing cheat on all network
–Download GBwhatsapp, with anti-ban feature 2019

You should also know that this does not work on all MTN sims and we will teach you how to check if you are eligible or not, even if you are not eligible for this data plan we will teach you what you need to do so as to benefit from this nice data plan.

How to check If you are eligible
It works on all tariff plan, so you don't need to migrate from your current plan to another.
First, i would advise you to try the procedure below first without recharging to confirm your eligibility, you should ensure you have less than #200 on your line.
Note that: You don't get the 4GB at once but you get the full data from auto-renewal, yes I know you are confused, just follow along you will get the full understanding pretty soon.
Follow the steps below carefully;
• Dial *131*65#, then you get a pop-up
Please don't rush and select 4GB for N1000, you should select that of 1GB for N200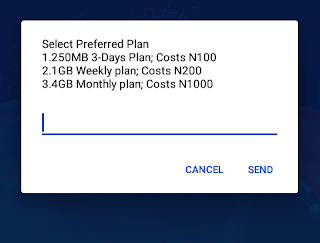 Proceed and Activate Auto-renew and confirm your subscription, If you are eligible you will get pop up telling you you have insufficient balance to purchase the data.
However if you are not eligible you will also recieve a pop up saying "you are not eligible"
If you are eligible just skip the below heading to how to activate the data.

What to I do if I am not eligible for the 4GB for N800
From my experience, I discover the eligibility is for two set of people;
• First, those that are using old MTN sim cards i.e those who have been using their MTN sim for a long time before mini and nano sim was introduced.
• Secondly, those that have left their sim card dormant i.e those that have kept their sim out of a working phone for 3 month or more, MTN gifts them the data when the insert the sim into a phone and subscribe for the data.
So if you are not eligible for the data, you need to look for an old sim which has been out of a phone for 3 months or more to get this free Data through their Welcome Back Pack. You sim should then be available for the MTN 1GB for N200.
How to activate MTN 4GB for N800
This is actually the MTN 1GB for N200 ans you need to understand that this is a mathematical procedure, you actually get 1GB for a week and if you activate auto-renewal you will get 4GB for a month. That is it.
Now that you have activated Auto-renew.
Repeat the procedure after you have loaded N800 and wait for it to auto-renew once exhausted.
Drop your comment or feedback in the comment box below and do share your friends using the share button below. Thanks for reading.
#Never give up…….Giving up is meant for cowards