How to get 500MB Data on 20Bids app
Have you run out of data? Why do you need to purchase a new one when you can actually get it for free, 20Bids app offers free 500MB worth of data. We have been posting awesome ways of getting free data on this website and 20Bids app is no exception. The app gives you free browsing data just for downloading and registering and can be used on all network i.e MTN, GLO, Airtel, 9mobile and any network provider present in your country, it is as simple as that. It is cool, isn't it?
Apart from the free browsing bonus you get you can also earn real money by working for them, just read on as we unveil this wonderful app.
If you have not read about how to get free data on Flaim app and Gidimo app then you are really missing, they all work in similar ways with 20bids app i.e get to browse for free after downloading and signing up.
Before we go into details, you need to understand what 20bids is all about.[the_ad id="2088″]
Also read:
Free download Asphalt 9 for android
Get paid from YouGov online survey
How to start making money on Instagram
Free browsing cheat on 24clan vpn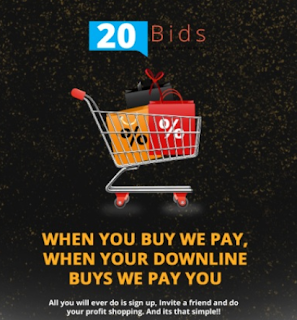 What is 20bids all about?
Firstly, It is 20Bids and not 20 bids , so keep that in mind. And it is a company which specializes in product reviews from popular market platforms like ebay, amazon, etsy, alibaba, takealot, jumia and so on, they help to disseminate information about your favourite equipments, tools, devices, cloths, shoes e.t.c. This is how they work, you get additional payment for constant sharing of their product to your friends on social media, it simply implies that when you promote their product you are equally rewarded.
So apart from the free 500MB data you get you can still earn payment from the company.[the_ad id="2125″]
How much do I earn for working for 20Bids?
It is a simple job you can do from home, this is another legit job you can do and earn cool money online, and you can do this without any form of stress as it does not affect your current occupation, the most interesting part of this is they pay pretty well.
• You get $150 a month for sharing products links. In the share bonus you earn more than $20 per day, you may share 20 items in 1 hour and you can share for 20 hours a day, you can earn up to $150 or more per month depending on how fast you can go.

• You also earn on referral, you are gifted with $1.5 plus free Data for every friend you invite to the platform and you can withdraw once the referred friend's account is activated.
• You also earn up to $1000 when you become their agent, you are paid when you help them by spreading information about their services across the world. Make payment easy by providing a peer to peer payment solution for users in your country and they reward you with an instant commission per transaction done under you
• You are instantly given 20% commission from the purchased product and you can withdraw your gift bonuses once orders is confirmed from any of their affiliated market partners[the_ad id="2125″]
• You can earn $250 per month posting trendy products from our partners online market places to our website, once your post is verified and activated you can withdraw your bonuses before the end of every month.
How to get the bonus Data from 20Bids
• Click here to register on the platform.
• Fill in your details correctly an create an account, make sure the details provided are yours as you will need them to claim your free data.
• After activating your account, go ahead and click here to claim your bonus data, provide your mobile number and the network provider. The 500mb data can take some hours before you are given, so be a little patient.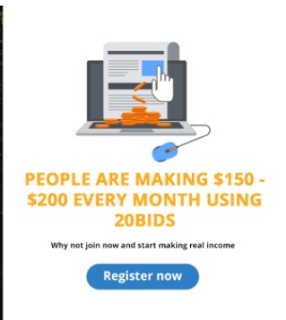 How to gather more free data on 20Bids
To accumulate more data, you need to simply keep referring people as much as you can as you can realize as much as 4gb worth of data, it is easier to do that as you can get unlimited data, simply get your referral link and share in various social media such as whatsapp, flaim app, facebook, twitter, linkedin e.t.c[the_ad id="2125″]
Hurry up, grab this opportunity to get free data and also earn real money up to $150 on 20Bids app.
You should also check out Gidimo and Flaim app and get instant data (link at the top☝, third paragraph).
Feel free to drop your comment or feedback and if you have any questions you can as well drop them in the comment box below.
#Never give up…….Giving up is meant for cowards