Allowance of the NYSC increased by FG
The federal government finally upgraded the allowance being paid to the NYSC menbers, it is no news that the allowance initially paid to the youth coppers (NYSC members) is so little that the whole money is not even enough for their transport talk less of paying dues.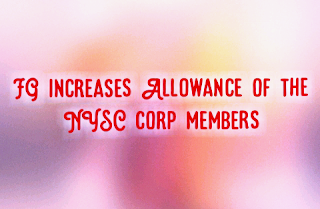 And a lot of complains have been raised to get the FG to increase it however, the FG have done it and this time it has been in accordance to the minimum wage.
The money given to the National Youth Service Corps (NYSC) has been increased to N30,000 by the Nigerian federal government.
You may also read:
How to get free data on 20Bids and earn up to $150 online
And you can also read on free browsing on all network via 24clan vpn
New year wishes for loved ones
The was made known by the minister of finance, Zainab Ahmed, who however, noted that the federal government is still working out modalities before the implementation of the new allowance for corps member, as gathered from The Nation.
Has the NYSC salary been increased?
As gathered by Demogist, the minister made it known in Abuja on Thursday, May 16, while on a press conference from which she added that the addition total of N649.434 billion was calculated and noted by the ministry as the outstanding balance to be paid to the state governments of the nation.
She also stated that– the other aspect that should be clear is that there is an increase for the NYSC was accomplished because they are entitle to the new minimum wage.
"So, NYSC allowance also has to increase to N30,000 therefore, I cannot give you projections right now because the negotiations are not yet to be concluded."
The NYSC ex-DG said all hope was not lost as the scheme was waiting for the federal government to sign the minimum wage into law.
He also advised the new sworn in NYSC members to conduct themselves properly while in camp to not indulge in any form of illegal act and crimes.
The NYSC ex-boss advised them to remain patriotic after being posted to their communities of primary assignments and ensure that impacts were made in their host communities.Dr. Ategbero A.M, an analyst advised that the youth coppers should make use of the increase of the allowance to save for the rainy days as there is draught of employment, the allowance could start a temporary business or even on a large scale if properly managed.
That is all we have on the increase or upgrade of the NYSC allowance.
Please do leave a comment below if you have any questions or feedback.
#Never give up…….Giving up is meant for cowards