Restore your windows PC
Have you ever had a problem with your windows OS and you think to restore your PC to an earlier or recent point in time solves the problem? Well maybe not, first you need to understand what it means to restore a computer. And the restore technique works for windows 7, 8 and 10.
What is system restore?
System Restore is best described as a recovery tool for all Windows versions which permits you to roll back or reverse some kinds of changes you as a user have made to the operating system.
Some problems which might warrant system restore include: some error message from the PC when we launch some certain apps such as the 0x000000ba error and the likes, virus infestation, wrong changes made in the registry and system files, bad program installed on the computer, missing system files e.t.c 
All the problem above will prevent or limit you from doing one thing or the other with your PC.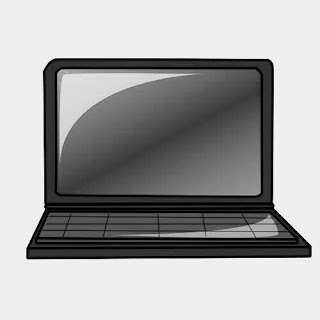 System Restore is mainly used to return important Windows files and settings such as drivers, wrong or corrupt registry keys and, system files, installed programs, and more back to previous versions and settings, it roll back the changes made to an earlier time when the system works fine.
Will system restore delete my files?
System Restore will never affect your personal files like your pictures, documents you have worked on, music files, movies, email, etc. System Restore can be utilized without hesitation even if you have just transferred tons of files to your computer it doesn't "undo" the import. The same method applies to ongoing downloads, graphics editing, game data, etc. So don't panic all of them waits right on your system.
How to remove Netflix account user profile
However, programs may be removed but it will definitely leave the files you made from the programs. For instance, when system restore is done on your PC, if you recently installed MS powerpoint, the powerpoint program is removed but it definitely keeps your presentations made from the program right on your PC, same thing is applicable to adobe after effect, illustrator, photoshop, ms word, FL studio files and all other programs.
How to restore my windows computer
Before we go into details, you need to understand that:
Restore point

 are 

automatically

 created on windows when you install desktop programs as well as new Windows updates made online, if the previous restore point is older than 7 days. You are permitted to also create a restore point manually whenever you want to.
Below is a video which to show the whole process.
That's all on 

How to restore your windows PC, however if you would like to follow the process without watching video then follow the below steps
Steps to restore your PC
Swipe in from the right edge of the screen, and then tap Search. (If you're using a mouse, point to the upper-right corner of the screen, move the mouse pointer down, and then click Search). You can as well open the "My computer" icon navigate to control panel.

Enter Control Panel in the search box, and tap or click Control Panel.

Enter Recovery in the Control Panel search box, and then tap or click Recovery.

Tap or click Open System Restore, and then follow the instructions.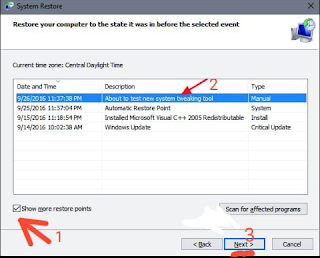 Click on show more restore point to see all restore points available.
Select the one with the desired date at which you think your PC works fine.

As illustrated in the image above, you should wait patiently, while your system restart and start the process, remember no interruption. Make sure you connect your system to a good power source.
Do use the comment box if you have any questions or feedback
#Never give up…….Giving up is meant for cowards.