Subscribe with N1000 and get 1gb and N2000 airtime
Are you looking for a cheap data plan? Then you are at the right place, Airtel DataPlus gives 1gb + N2000 for just N1000 only.

In May 2019, Airtel recently unveil another data plan which is christen the Airtel DataPlus. This is was announced recently after Airtel announced the great Airtel binge plan which is 2gb for N500 (click here to read in that) which is also very much active, DataPlus allows you to browse your favourite sites and as well call your friends, it is great, isn't it?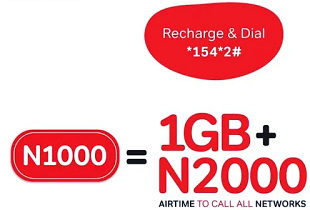 [the_ad id="2088″]
As most people will prefer to get more data on their Airtel SIM, others may prefer more airtime to talk to their loved ones. However, what about those who are on the fence who wants more data and airtime at the same time. This is an issue the company have addressed with their new cheap data plan.
What is Airtel Dataplus?
Airtel DataPlus is a data plan by Airtel Nigeria that gives subscribers N2000 worth of airtime plus 1GB of data for only N1000.
This free airtime can be used to make both local and international calls.
The 1GB of data will work as a normal Airtel data plan and can be used on all devices be it windows PC, smartphones, MacBooks and even on multiple device by sharing via hotspot[the_ad id="2125″]

How to activate Airtel DataPlus
The codes for the subscription of this plan is *154*2# but before we go into that you need to get somethings ready. To subscribe, you need to have at least N1000 on your Airtel SIM.
Dial *154*2# to subscribe to Airtel DataPlus
All Airtel users are eligible to subscribe to the Airtel DataPlus data plan. After subscription, N1000 will be deducted from your main Account balance and you will be credited with 1GB of data, plus free Airtime of N2000.
So hurry up and get yours in this May 2019 and start enjoying your data and airtime on free Airtel data plus at the same time.
You can also read on how to get unlimited data on gidimo.
And also free browsing cheat for may 2019 via 24clan VPN
Please do use the comment box if you have any question or feedback.
#Never give up…….Giving up is meant for cowards