Subscribe for Airtel Binge plan
Looking for a cheap data plan for May 2019? Then here is it, Airtel Binge data plan gives you 2GB for #500 (five hundred naira only).
.
It's awesome, isn't it? Airtel Nigeria has introduced a great data plan majorly modified for heavy internet surfing and heavy downloads. The data plan is named and identified as the Airtel Binge , this specific plan offers subscribers 2GB data for just N500.
As good and strong this data plan is, the only issue with the subscription is that the plan is only valid for 24 Hours.
.
As compared with other data plans this data plan is strong and also fast, i guess you don't want to miss it, we will tell you how to get started pretty soon.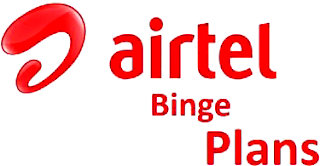 Airtel Binge plans offers users an avenue surf and download music, video, movie, ebooks, and other files up to 2GB worth of data at the rate of just N500 only.
You can also read on how to get free MTN data on Gidimo
And you can also read on free browsing cheat using 24clan VPN on all network
MTN data of 1GB for N100 only

Subscribing to the Airtel Binge, you are not restricted to just a device you can absolutely use it on any device you have and can also connect to two or more devices via hotspot, you get to browse and download on your Android, iPhone, PC and any other internet enabled devices. It is usable during the day and night, but has a validity period of just 24 Hours. This is one of the company's cheapest data offer for the May 2019.
The company recently released a data plan along with the one mentioned in this article, the company also launched a 1GB for N350 Airtel on this same Binge data plan. So hurry up while the offer last.
How do I subscribe or activate Airtel 2GB for N500
Activating the Airtel Binge 2GB for N500 data plan is as simple as eating banana. Everything you are required to do, is load your mobile line with a N500 recharge card, and dial *141*504# . You will be credited with the promised data thereafter, you can sit back and enjoy a 24 Hour browsing for just N500.

Important Notice: The validity period for the data plan, is just 24hours (1 day). So hurry up and start browsing and downloading.

Thats is all on Airtel Binge, please do use the comment box if you have question or anything to tell us.
#Never give up……Giving up is meant for cowards